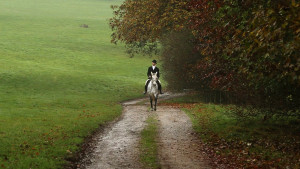 Harewood House, Yorkshire, 25 March – 30 October 2016
2 newly-commissioned films explore contrasting sides of the Harewood Estate. These are being shown in the Watercolour Rooms on the State Floor of the house, alongside celebrated depictions of Harewood by Turner, Cotman, Girtin and Roger Fenton.
This show is a centrepiece of 'Great Capabilities', a season of events being held to celebrate the Capability Brown 300 anniversary.
My films, shown side by side on 2 monitors, recreate Capability Brown's original carriage drive to the house, contrasting the grandeur of this with the intimate, private Northern Pleasure Grounds that incorporated Harewood's medieval church and castle.