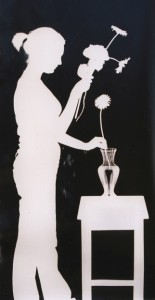 3 October 2014
Event 42
Corn Exchange, Call Lane, Leeds LS1 7RB
5 – 10pm
Create full length self-portraits silhouetted against an 8ft shadow screen. An immersive experience continuing my researches into the mysteries of the shadow.
Picture yourself against a frieze of the Leeds skyline, or cut out your own props from sheets of black paper provided at the venue. Each tableau will be professionally photographed and emailed to you, or you can snap your own companions to immortalise your visit.