One-hour performative lecture delivered in the person of JC Lavater, 18th century Swiss pastor and physiognomist who popularized the art of portrait silhouette through his influential writings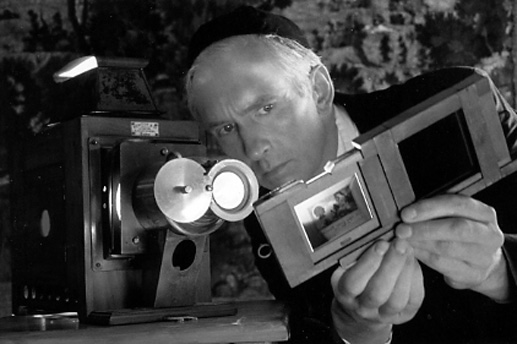 The noted physiognomist Johann Caspar Lavater (1741-1801) returns for one night only to reclaim his place at the centre of European culture, armed with magic lantern, silhouette apparatus and new revelations about photographic experiments in his Zürich cellar.
Originally devised for a conference on Victorian literature, this presentation was included in Alchemy, an ACE touring exhibition 2006-7 in which 12 contemporary artists explored the essence of photography (see Exhibitions).
The show involves magic lantern projection, audience participation, music, art history and photo-chemical demonstration.
Developed in participation with Alexandra Mathie, actor
Performances:
Friends Meeting House, Burford, Oxfordshire, June 2013 (part of Burford Festival)
University of Westminster, November 2009 (part of lecture series Professor Pepper's Ghost with Magic Lantern Society) with Sophie Khadr
Milton Theatre, Huddersfield, November 2009, with Yuki Kondo
Ferens Art Gallery, Hull, June 2008 (part of Humber Mouth Literature Festival)
Holy Trinity Church, Leeds, October 2007 (part of Light Night) with Angela Cairns and Dominic Ashton
Nottingham Trent University, October 2007 with Dominic Ashton
Djanogly Theatre, Lakeside Arts Centre, Nottingham, July 2007 with Alexandra Mathie
Abbot Hall Art Gallery, Kendal, January 2007 with Michael White
Purdy Hicks Gallery, London, November 2006 with Alexandra Mathie
Harewood House, Leeds, July 2006 with Alexandra Mathie
The Romantic Spectacle conference, Roehampton University, July 2006
Victorians in the long view conference, University of Gloucestershire, August 2005