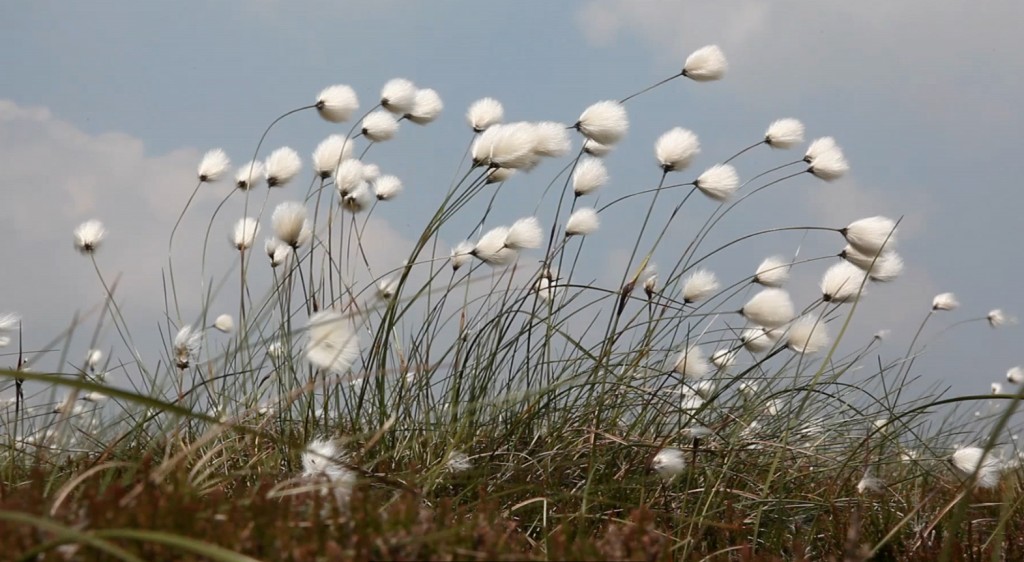 50 Steps was an ACE-funded group project with 3 dancers, a musician and a videographer, that toured to five towns and villages along the Pennine Way in 2015, its 50th anniversary year. There was a culminating performance at Square Chapel Centre for the Arts, Halifax in April 2016.
At key points (Edale, Hebden Bridge, Thornton, Hawes and Garrigill) the group walked a section of the National Trail in the morning, and improvised a response the same evening in a process of immediate re-imagining. The dancers re-lived, reflected and interpreted their shared experiences of the walk, accompanied by a live musical soundscape and video clips live-mixed to stimulate a mutual exchange between the 5 collaborators, each answering and challenging the others throughout the 30-40 minute event.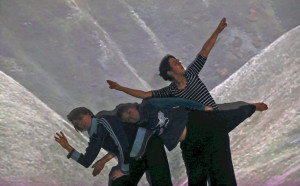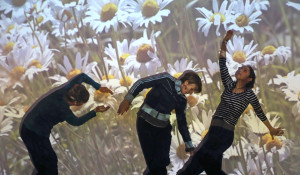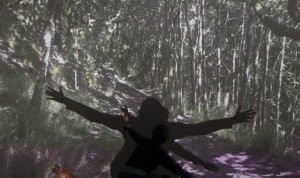 The final performance distilled our experiences of the Pennine Way. We looked back on the delights and rigours of the route, and offered our highly physical interpretation of the northern uplands, together with an insight into how our 5-way collaboration had worked out.
Performances were preceded by a short introduction to the the geology and landscape of the Pennines by William Varley of West Yorkshire Geology Trust.
Performers were David Birchall, Stacey Johnstone, Ruth Jones, Natalie Speake and Simon Warner:
• David Birchall is a Manchester-based musician using improvisation to think widely about how living things, sounds and spaces interact. He has performed in the UK, Europe, Russia and USA and has run workshops and projects for Madlab, Brighter Sounds, Bury and Manchester Libraries, Manchester NHS, Huddersfield Contemporary Music Festival, the Tour de France and National Media Museum
• Stacey Johnstone is a physical performer and actor, with an MA in Ensemble Performance from Huddersfield University. She is an Associate of Whitestone Arts, Duende and Six Lips Theatre, and has worked with Freedom Studios, Pennine Prospects and Opera North Projects.  Stacey is currently a freelance facilitator/director at CAPA (Wakefield) and working on Fewer Emergencies with Proper Job Theatre, performing again at Square Chapel in May.
• Ruth Jones is an established choreographer, dancer and dance facilitator in Manchester, founder and director of Axial Dance specialising in sited and outdoor dance work, and director of community group Ad Hoc Dance based at Manchester Art Gallery. She has also choreographed over 50 professional theatre productions
• Natalie Speake is a dancer and choreographer. She has worked on several projects with Calderdale-based community arts company Verd de Gris, including Creative Communities, a 3-year partnership with Halifax Square Chapel 2015-18. Natalie also runs dance activities for people with Parkinson's and Dementia
• Simon Warner is a landscape filmmaker/photographer and co-founder of Whitestone Arts, an arts producing and development base near Haworth. Current work includes 3 film projects for the Capability Brown 300 anniversary in 2016. He was long-listed for the Northern Art Prize 2011-12.
Review
'Each performance is a genuine improvisation…. Having seen 2 of the 5 presentations (at Thornton near Bradford and Hawes in the Yorkshire Dales) I can vouch that the company  do clearly convey the very different landscapes by creating an 'immediate re-imagining' through dance, sound and imagery.'
Nancy Stedman, Landscape Research Group e-Bulletin, October 2015
 Audience feedback
'The performance in Hawes was really fantastic. I still struggle to envisage how you could walk, create and deliver the essence of the Pennine Way experience in one day.' – Andrew Harrison